Yesss!!!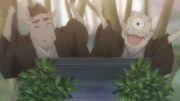 The goal of creating 100+ pages for youkai have been achieved today, 28 Jun 2013, Friday.
So far, 103 pages have been created about the youkai characters that exists in all Natsume Yuujinchou series.
Today also marked my 1 000+ edits to this wiki. 
My first edit was on 2nd June, 2013 and not even fully a month since I've joined this wiki. See my edits at Sandbox.
Anyway, for some time next month, I will be out for awhile. Might not be able to reach me by that time. However, do expect something more from me when I return.
For now, lets enjoy editing Natsume Yuujinchou. My goal is to make this wiki the most complete resources for the series.